Next‑Level Business Intelligence
Generate better business value across your entire organization through better BI.
AKTEK iO FOR BUSINESS INTELLIGENCE
Faster data insights for rapid‑changing contexts
From data collection to visual exploration and insightful analysis, AKTEK iO provides you with a self‑service data management platform you can customize based on your specific needs, and get a holistic and real‑time view of your organization, allowing you to tackle your most complex business challenges.
DISCOVER MEANINGFUL AND ACTIONABLE DATA INSIGHTS
PROMOTE DATA‑DRIVEN OPERATIONS
SAFELY PROVIDE BUSINESS OWNERSHIP OVER BI
BRIDGE THE GAP BETWEEN DATA AND STRATEGIC ACTION
FOSTER ORG‑WIDE COLLABORATION
EMPOWER BUSINESS DECISIONS WITH REAL‑TIME DATA
Capabilities beyond traditional Business Intelligence tools
Data Acquisition
Build your own data collection instruments using a wide range of field types. Write descriptions and define what questions should be mandatory or if there are specific validated conditions for the expected answers.
These tools can be populated by selected users to feed dynamic situational dashboards with interactive graphs and maps.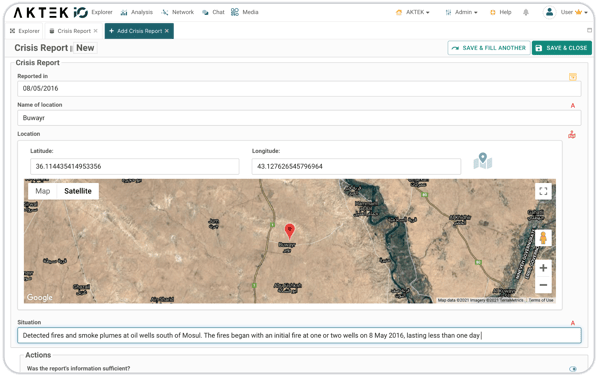 Data Analytics
AKTEK iO's self‑service capabilities allow you to build tailored analytical experiences and provide your users with detailed intelligence about the state of your organization.
By streamlining data management from end‑to‑end, AKTEK iO makes it easy to identify data gaps to fill, trends to consider, and uncover insights that improve your day‑to‑day business decisions.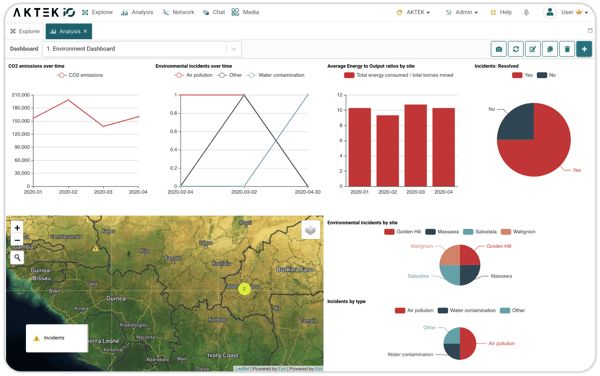 Knowledge Management
Break silos and reduce friction by combining different data repositories to support the recording, sharing, and preservation of knowledge inside your organization.
Create and manage new content with agile workflows and approval cycles, customized by you, without the need for coding skills or expensive IT middlemen.